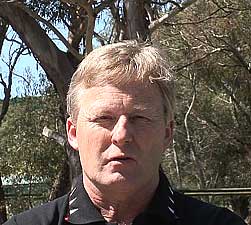 Ray Hutchinson, MRCVS BVETMED, veterinary surgeon
"The Barclay Anti-Cribbing Collar is a very safe device as far as the horse is concerned. It delivers a very low voltage static electric charge which has no long term or short term detrimental effect to the animal. I've seen a lot of anti-cribbing devices in my time and really I find very few of them effective at all. The Barclay Anti-Cribbing Collar is by far the best I've seen."



Mick Kent, thoroughbred trainer
" I was keen to try the Barclay Anti-Cribbing collar on a chronic windsucker I had here. The results were outstanding. It immediately stopped her windsucking.....consequently she has gained a lot of weight and her form has turned around and she's now winning races whereas before she was unable to do so."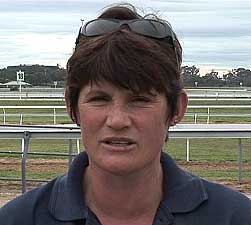 Louise Doyle, equestrian
"I have a riding pony that is atrocious. He's the worst windsucker I've ever seen. Since I've been using the Barclay Anti-Cribbing Collar I do not have a problem. He's stopped windsucking, he's gained so much weight. Sam Richards, an up and coming show jumper had a horse with so much potential but it had no condition because it was a windsucker. They tried a Barclay collar and after 2 weeks they couldn't be happier.......he's not windsucking at all. I just can't say enough about the Barclay collars. I think they're fantastic."



Customer Comments (via email)

Hello my friends at Barclay's Collar, I'm afraid to speak too soon about your product but I wanted to extend a sincere thanks to all who were involved in creating this collar. Truly amazed with the results in just three weeks with a horse who constantly windsucks. I tried to explain in the email below my observations of a chronic cribber clinically. This horse would glaze over in the eyes as if he wasn't home. Presently, wearing the collar that has changed as he is brighter in his eyes. He's talking alot and comes out of his shed when I arrive. Before he would be cribbing and preoccupied. Yesterday, in the field I called to him to come, much to my surprise he came cantering through the field to me. I believe he feels better - he's not Windsucking or cribbing. Almost afraid to say this!! I wanted to take this opportunity to thank you for this humane product. We are a horse rescue on Long Island who will refer those with this problem to your collar. We have already had inquiries from trainers and boarders. May the heart of the horse be with you.
Sincerely,
Louise Abitbol




I purchased the collar I few months ago and I reported that it drastically reduced the wind sucking of our horse but after a week or so he worked his way around it (can you believe it!) and the sucking started all over again. So I persevered over a few weeks till I got it right NO MORE rubbing the collar around off the neck for him. Since getting it right to suit this horse he has in a few short weeks gone from an RSPCA case to this huge happy horse, we once fed him all day everyday endless amounts of feed that did nothing. Now he is on strict rations within weeks and I can honestly say I have not seen him wind suck at all. Once in about 6 weeks he walked up to a post gave it a funny look and walked off never even tried to suck. I am impressed I truly thought he was a lost cause especially when in the early days he'd move the collar so he didn't feel the effects
Thanks heaps


Jocelyn




I purchased a collar from you at the beginning of April this year. I am a true believer in your product. I have been raving about the collar to everyone because the horse (a rescue) was chronic and had basically stopped eating and was becoming skeletal. After 3 gradual adjustments of the collar she stopped sucking completely and now hoovers down 6 biscuits of hay per day plus bucket feeds- in between she happily grazes 2 acres. She now has the potential to be developed by my daughter (a showjumper) maybe even to keep and compete- something that couldn't happen with her chronic sucking as we travel all over the state and she could never have held up to the stress.
Regards


Sue



I purchased on of your collars from a distributor in Nevada. I have a thoroughbred that has been a chronic wind sucker since the day I bought him 12 years ago. He in turn taught my mare the annoying act of wind sucking. I have tried every collar, mask and chemical available to stop the cribbing. The mask would work, but it was bulky and would wear through in time. I ordered your collar with hopes I had finally found something that would work. And it did! My thoroughbred looks amazing now. He has gained all of his weight back, and is once again peppy and full of energy. I then ordered a second collar for my mare, and she too has stopped cribbing. Thank you so much for this wonderful product! I did not think I would ever be able to stop these two horses from cribbing, but thanks to your collar I have!
Sincerely,


Sandra




Many thanks for the collar, it worked in the first few hours, horse is eating well and wanting more - never been a good eater before. Will see how it goes over a period of time. My daughter has a bad windsucker as well, so am ordering one for her, hope it works as well.
Regards


Joan




I have an 18 year old Thoroughbred, Toby (To Be Or Not To Be), that began cribbing at age 3 or so as a result of being turned out in the morning with neither hay nor grass at a boarding facility where I had not control over his feeding. He started chewing fences and soon began cribbing. I tried absolutely every cribbing collar--except a spiked one--I could find with no success. I even had acupuncture with staples in his ears done to stop his habit. He wore a muzzle for a while at one farm which protected the fencing but did not stop him from finding a way to crib without holding on with his teeth. When I moved him to my home, I just surrendered and decided to put up with it. I did treat Toby for ulcers hoping that might help, but again, no success. I put the Barclay's collar on him about three weeks ago. He cribbed a few times, I adjusted the collar so it was reacting properly and ever since I have not seen him crib once. Even when I feed him his "after ride" carrot, a sure trigger for him to crib--nothing. He will occasionally go over to his stall ledge, "think about it," and then not even put his mouth to the wood. So far, you can add one more amazing story to your collection of successes.
Thanks


Jean